Online Veteran Application
Please submit the online form below. You may also download and execute this PDF of the Veteran's Application: Veteran's Application.pdf
PLEASE BE AWARE: The Transportation Security Administration is reminding travelers that beginning May 7, 2025, every traveler must present a REAL ID-compliant driver's license, or another acceptable form of identification, to fly within the United States.
For those unable to physically attend, please learn more about our HFSN Virtual Program: Honor Everywhere.
HFSN Virtual Program: Honor Everywhere
Our Mission: To honor our most senior veterans.
Honor Everywhere 360 allows Veterans who aren't able to physically travel the opportunity to see their memorials.
We will be offering a virtual reality experience of the WWII, Korean War, Vietnam War, and other memorials for those veterans not able to make the HFSN flights to Washington D.C.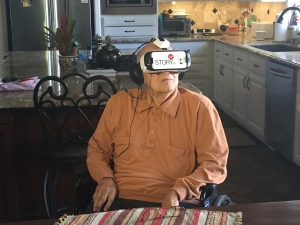 Please contact us for an application 702-749-5912.  We will coordinate with a family member to visit the veteran and present an immersive experience with special Oculus Go virtual goggles.
Our team members will be tested for Covid-19 prior to entering any veterans home.  We will have personal protection and ensure the equipment is properly sanitized before use.
Please complete the HFSN Honor Everywhere Program application so that we can properly honor these veterans.