Online Guardian Application
To become a Guardian for Honor Flight Southern Nevada, you may submit the online form below or download and execute this PDF of the Guardian Application: Guardian Application.pdf.
PLEASE BE AWARE: The Transportation Security Administration is reminding travelers that beginning May 7, 2025, every traveler must present a REAL ID-compliant driver's license, or another acceptable form of identification, to fly within the United States.
A spouse, significant other or partner of a veteran cannot participate as their guardian.
For more information, please learn about becoming a Guardian.
You may just end up with a once in a lifetime friendship. These two were complete strangers a couple of months ago.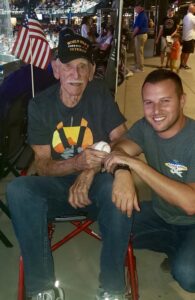 Guardians: An Essential Element
Guardians are essential to the success of the Honor Flight Southern Nevada Program. Without these hard working individuals we would not be able to carry out the dreams of so many veterans, enabling them to see the memorials built in their honor.  Guardians will have a great time, seeing these memorials through these heroes' eyes.  The Guardian is responsible for all of their expenses, paid to Honor Flight Southern Nevada. An application must be completed to be considered. Spouses or Significant others may not go as guardians unless they are a veteran. Typically during our trips, we try to pair up veterans either one-on-one or two-to-one guardian, if they are able bodied veterans. Even before the veterans arrive at the airport, the guardian's responsibilities begin with flight preparation and going over their packets of material. Once the veterans start to arrive, guardians will ensure boarding passes and IDs are available, distribute Honor Flight Network shirts, get the veterans through security and to the gate, assist in boarding, etc.
Guardian Application details
PDF form submission instructions are detailed on the PDF form. A Guardian payment will be required. Guardian payments are a reimbursement for the costs associated with the trip.  Please consult your tax representative to determine if it is considered a donation. We cannot advise you on tax information.  Please review IRS Publication Form 526.
Ways to pay:

Please use the PayPal link to make the Guardian Payment, that the Guardian Coordinator has indicated.  The  Guardian payment is currently $1000 as of 1/ 2023.  Discounts are provided if you are a veteran.  
You can also send a check by mail.
Payable to: Honor Flight Southern Nevada
Mail to: 6720 N. Hualapai Way Suite 145-176 Las Vegas, NV 89149
Please check with the Guardian Coordinator if you are unsure of  your Guardian Status.
Because of the role of the guardians, it is important guardians are able to push a wheelchair all day – up inclines, lift a wheelchair on and off the bus, help should someone fall and in general be observant at all times to what is going on with the veterans.  Spouses may not serve as guardians. There are physical requirements for Guardians and it is not to be taken lightly.
From the moment the veterans are in our hands until we return them to their loved ones in the evening, guardians will be asked to treat these heroes as if they are family and ensure that every veteran has a safe, memorable, and rewarding experience. Guardians are volunteers and are expected to pay for their trip.  It may seem odd to pay to volunteer as a Guardian, but we could not make these trips possible without the Guardian paying for their expenses.  Fundraising goes to pay for the veterans as they are to pay nothing out of pocket for this trip.  Prices will vary depending on the departure city and airline fares.